Discover more from The Losers Club
My personal Substack
I don't want to break it
A newsletter from the shed of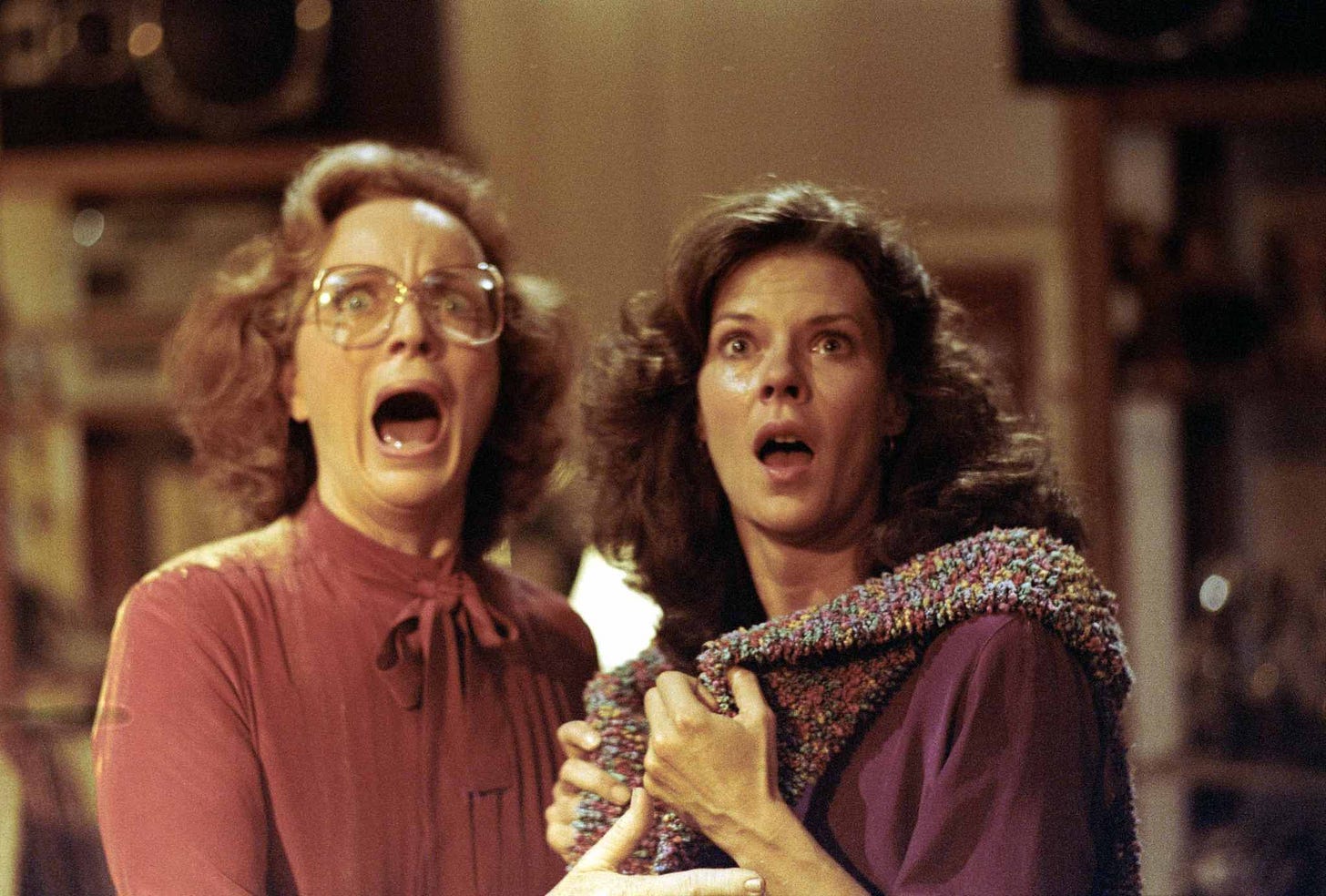 Now then, 

Happy almost Halloween, Losers' Club! How are you doing?

I'm writing to you from a solidly late Autumnal day in Bradford, which actually means just really wet and grey and cold, and where the gloom never actually fully lifts. It's the time of year when the idea of sacking off work, putting on the fire, and laying on the sofa knitting while watching an old horror film kicks in really, really early in the day...

Despite the lure of knitting and the sofa, I have finished a really solid pass of Knit One Stab Two to screen at the Hannover conference next week. I would like to say it is done, but the conference is packed with the Great and the Good of videographic criticism and if they have any useful feedback on improvements, I am there to hear it

(even if I don't necessarily ever want to open the Premiere Pro file again, ha). 

I also went into work this week. This is news, I promise you. Because as I am on research leave, and I live nearly an hour from campus, I very rarely go in. I was lured onto campus though with the promise of a research seminar - in person - by Professor Sue Thornham, who is rather an academic hero of mine.

I first encountered her book Passionate Detachments: Introduction to Feminist Film Theory (1997) while doing my BA, and then she's the author or editor of tons of film and television studies books that I've found useful over the years.

There are a couple that I really love - What If I Had Been the Hero?: Investigating Women's Cinema (2012) and Spaces of Women's Cinema: Space, Place and Genre in Contemporary Women's Filmmaking (2019)  - I think the titles reveal why I am into them... What If I had Been the Hero? was kept nearby me, on the shelf next to my desk, while I wrote the opening chapter of Women Make Horror.

Professor Thornham's talk was all about the way that feminist theorists have thought through conceptions of time, and how, historically and intellectually, this has changed over the decades. She then applied these ideas to women-made cinema, focussing on the work of Marleen Gorris (she directed the feminist classic, A Question of Silence, in 1982, and a load of other stuff).

I really enjoyed the talk. Professor Thornham was looking at intellectual histories, and referencing a lot of critical thinkers I haven't thought about since my PhD - Julia Kristeva, Lauren Berlant, Judith Butler - and it did my brain good to go back to high theory and pick around in it a bit. 

It made me feel really inspired about going back work on my next book, Her Chainsaw Heart, and in recognising the value of interweaving intellectual histories with histories of horror filmmaking, and the work of women.

It made me really want to finish the video essays and get back on with writing, and to make that happen soon. 
 
***
 
What have you been watching? I'm enjoying Drag Race UK and the Office (up to season five now) but that's about it for telly. We started The Old Man (2022, Disney +) which opened up with a bang but disappeared up its own arse in episode five and we haven't been back since.

As ever, I have also been watching horror films.

For once, I'm fairly confident that you are going to know - really well - most, if not all, the horror films I want to talk about this week.

(well, there's one that's fairly obscure but that's it. Quite good going for me).

The Monday after the last newsletter, me and Helen went to Bradford Cineworld to see The Lost Boys (1987). Although I know you all know this film, the one-line synopsis is: after moving to a new town, two brothers discover that the area is a haven for vampires.

This is one of my all-time favourite horror films. It would definitely make my top five. I have a soft spot for horror-comedy, particularly when it is done well, and I even don't mind that it is a vampire film (as you may remember from my last missive, vamps are not my favourite monsters). 

There's something about the 1980s, and Grandpa, and the teens, and the vamps, and Keifer Sutherland, and the video store, and the Two Coreys, and the California beach location that lands so well here, and I find the film a total JOY.

(with best final line ever "one thing about living in Santa Carla I never could stomach; all the damn vampires")

For once, I'm not going to analyse it in any depth, for once I don't want to break it, I don't want to peel back the outer layer and look at how the insides work.

I love it just the way it is.

Then, this Monday just gone, me, Zosia and Helen went back to Cineworld to watch Poltergiest (1982, pictured at the top of the newsletter), in which a family's home is haunted by a host of demonic ghosts.

(I should add I am not on some kind of secret Cineworld retainer, and quite frankly it is the least-salubrious of the three cinemas in Bradford, but I have just forked out for one of those unlimited £10 a month passes, hence this being our number one cinema destination right now).

I last watched Poltergeist in 2015, at the Offscreen Film Festival in Brussels, on a beautiful 35mm screening at the Cinematek theatre. I was tired and alone and feeling a bit homesick, and I was so moved by the -

SPOILERS ALTHOUGH THESE REALLY SHOULDN'T BE NECESSARY 

- moment where the mum rescues Carol Anne that I actually had a little weep.

But this time, it was a different matter. 

It's always different going to see a film with your mates, isn't it?

When the warning for "turn off your telephones and no talking" came on, that's when I turned round to Zosia and said "and this is why we have to come to the cinema" because at Horror Club as soon as anything begins to get remotely scary, she goes on her phone claiming to "look up actors" (a likely story), and talks incessantly. So, no escape for Zosia here.

Although I love Poltergeist, my two favourite moments came from being in the cinema with these two women, rather than the film itself. I thoroughly enjoyed it when Helen (a total nervo with paranormal stuff) jumped out of her skin, literally about a metre off her seat, clawing at her coat, when the clown doll appears behind the bed, and I also loved introducing Zos and Helen to the iconic Tangina, who is my favourite character in the entire film

("this house is clean").

I also noticed, for the first time, just how funny this film is.

It hadn't felt funny when I was crying alone in the dark in Brussels' Cinematek, but, this time around, I really appreciated the smart dialogue and the actor's comic timing. 

The whole film could've been about 30 minutes less, with a very leisurely first act, but I am biased in thinking that all horror films should come in at 87 minutes or less, so I don't know how fair my assertion is, really.

I've also been watching a few telephone horror films, for the HELLO? telephone video essay I am working on. I was on instagram the other night and I saw that my mate Steve Jones (also a horror academic, author of Torture Porn: Horror After Saw, and a thousand other horror publications) was watching Don't Hang Up (1974) AKA Don't Open the Door.

This was a new one on me, and I discovered it was an American low-budget exploitation / grindhouse type picture, with the following premise: a dutiful grand-daughter goes home to take care of her elderly grandmother. Once there, she finds herself trapped inside the house with a homicidal maniac.

It's quite hard to get hold of - I eventually found a poor copy of it on DailyMotion, which meant every five minutes I was bombarded with adverts for Disney World Florida (?) and Adobe Premiere Pro, but tbh this didn't detract from the general terribleness of the film.

If you're in the mood for some generally bad acting, and a script that doesn't make sense - but with these flaws mitigated by an outspoken, really gutsy heroine, and some random creepy doll montages - then this might be for you.

I also watched Scream (2022). It only came out ten months ago. You come to me for the hot take on the latest releases, right?

This is the fifth installment in the series, and is based on the idea that 25 years after a streak of brutal murders shocked the quiet town of Woodsboro, Calif., a new killer dons the Ghostface mask and begins targeting a group of teenagers to resurrect secrets from the town's deadly past. 

Can we begin with the fact that I refuse to accept it is 25 years+ since Scream came out.

And then, after that,

well. 

What did you think to the new film?

Hmmm.

So, you probably won't remember, but I told you that I started watching this on the plane home from Vermont in July, and was really impressed with the opening kill scene, so I turned it off to watch properly at home.

It turned out the kill scene opener was definitely the highlight of the film.

(which makes me sound like some bloodthirsty lunatic but you know what I mean).

Tara (Jenna Ortega) is fantastic in the opening sequence and I really appreciated the recognition of the past Screams, the gameplay, Tara's valorisation of The Babadook and elevated horror (which really made me laugh and eye roll simultaneously), plus the pacing, tension, scene escalation, structure, all bang-on.

But once this preliminary section is out of the way....

The film is glossy and polished - slick editing, production design, cinematography - but it didn't give me the gut punch I wanted. I quickly realised I didn't really care about any of the teens (or 20-somethings) at the heart of the film. This could of course be my age, that I am definitely in the "kid in the 1990s and now a parent" category in this new "requel", but even so.

Scream is composed of long, fairly arduous and self-congratulatory periods of meta-chatter about gameplay and toxic fandom and reboots, punctuated by a short intense periods of stabbing.

That's about it.

Even when the stabbing is coming, when we have suspense, we are literally just waiting to see which door the killer is going to appear around.

The big questions of these later kill scenes are just:

will ghostface be there when the boy closes the fridge door?

or what about when he closes the pantry door?

or what about when he turns back around from getting ice out of the sink?

The score plays on this tension so obviously it gets wearing; no-one likes to feel so obviously manipulated. 

I enjoyed Courtney Cox and Neve Campbell's returns, and they did a good job, but they weren't needed either. Their appearances were reduced to another knowing nod to "legacy characters", discussed (at length) by the bright young things.

Really, for all of its attention to the whodunnit, the new Scream fails to heed one of Agatha Christie's most basic rules:

The bit where you all sit around talking about which of you is the murderer, and why, is done at the end, before the final reveal

(not repeatedly and extensively across the film, padding out the oh god I felt it nearly 2 hours run time)

and you should never make more than one of your characters all knowing and arch (Christie's meta equivalent is Ariadne Oliver), because it gets really boring really quick.
 
***

Time for some reading and viewing recs.

I am currently reading Fairy Tale by Stephen King which I am head-over-heels in love with. It is a totally lovely, world of a book that I am delighted to lose myself in every night. However I have it in a huge heavy hardback and am seriously contemplating buying it on kindle to take with me on my travels next week.

Other than that, here are my recommendations for.....

Something to watch:
Deliverance, Catherine Grant's brand-new, 3-minute remix of Nosferatu (1922)

Something to read:
Jude Doyle's comparative analysis of Get Out and The Stepford Wives

Something to explore:
Maya Cade's new Horror listing on the Black Film Archive

Something to listen to:
Stephen Graham Jones' new audiobook, The Babysitter Lives, described in the publicity as as "a mind-bending haunted house tale from the Jordan Peele of horror literature"

Something to subscribe to:
Art & Trash, Stephen Broomer's newsletter of video essays on trash, art, and movies.
 
***
 
That's it from me for today. I am going to London in the morning to the De-Westernising Horror Cinema conference at Kings College London, then I am flying onto Hannover mid-week for the Videography: Art and Academia symposium so I am just stressed running around trying to plan and pack and go argh.

I hope you are not running around being stressed and going argh, and I hope that, instead, you have a fantastic Halloween, and watch some 1980s or 1990s horror films that you know I would totally approve of.

As ever, if you think of any books or films I might enjoy, or you want to tell me what you've been up to, you can just reply to this email. I always write back, albeit belatedly. 

Take care and speak soon, my lovely Losers' club.
 
Alison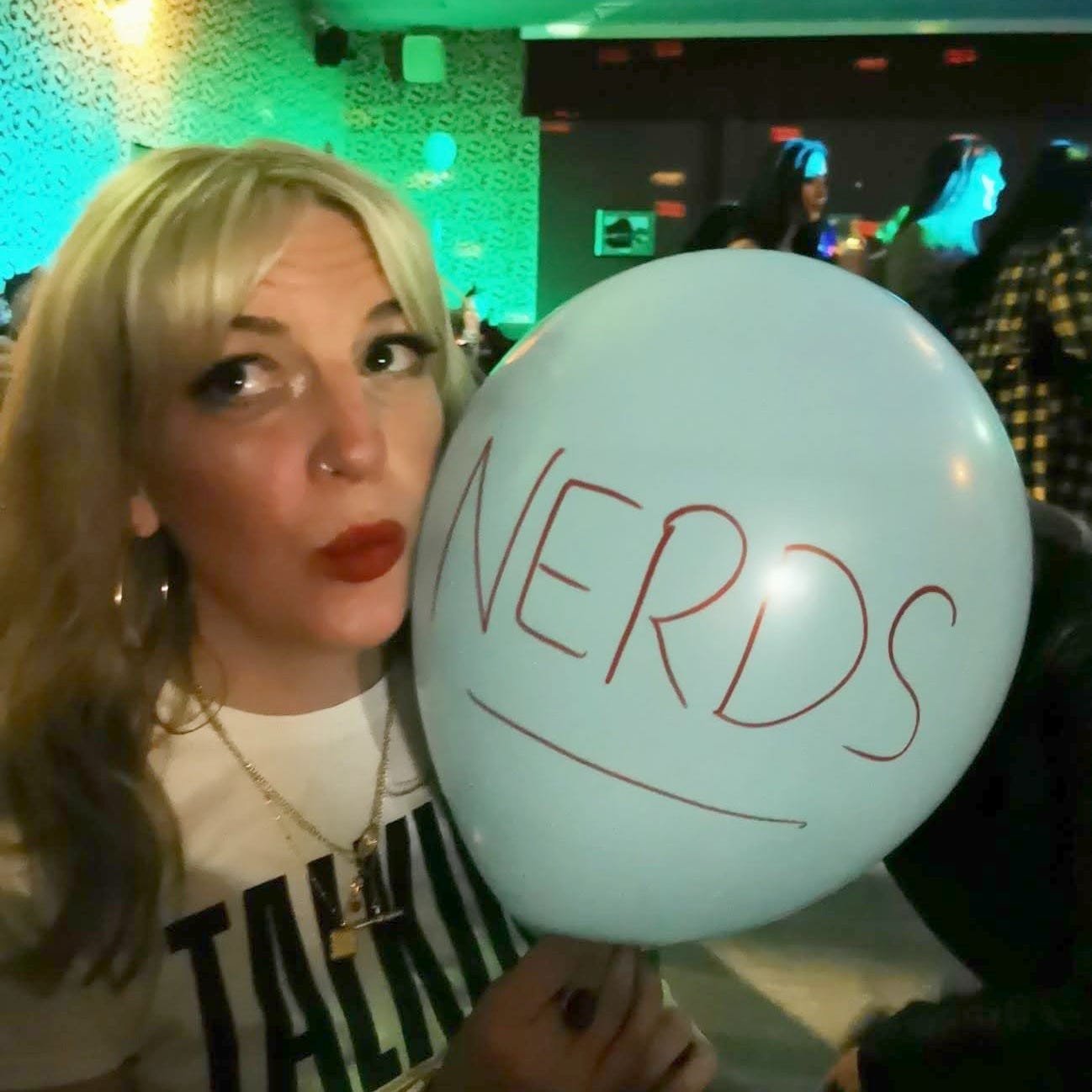 The Losers' Club is a newsletter by Alison Peirse, associate professor of film and 
author / editor of Women Make Horror; After Dracula and Korean Horror Cinema.