Discover more from The Losers Club
My personal Substack
this is not Psycho
A newsletter from the shed of
Now then Losers' Club, 

How are you doing? What have you been up to? Since we last spoke, I have had my head deep in 1940s horror film, for a new chapter I am working on, and I will talk about that more in the film section later on. But in the meantime, I have a few morsels of nice horror things to share with you. 

First, the Women Make Horror: Two Years on event with the BAFTSS horror SIG happened and it was great and it was a thing. All the contributors - Val, Ylenia, Prano, Carolyn - were excellent and thought-provoking and this roundtable might just have given me the opening hook for my next book, Her Chainsaw Heart: A Feminist History of Horror Film.

After the event finished I sat back and thought, "OK, I think that went well, don't think I made too much of an idiot of myself and I don't think anyone could tell I was in my pyjamas". But then I got a DM off my mate Faye who had taken a photo of her screen to show me how she'd had to widen her zoom window to accommodate my tendencies towards HUGE HAND GESTURES AT ALL TIMES. 

Oh dear. 

If you would like to watch some excessive gesticulation, as well as a thought-provoking roundtable on horror from some of the foremost filmmakers, curators and next generation scholars on the subject, you can do so here.

(I just clicked the link to make sure it worked and up popped Kate Egan's lovely face - the chair of the event - but then I saw me there as well and went ARGH and closed the window immediately. But I am hoping it is a good watch).

Next, my Jackie Kong article has been published! It is called 'Towards a Feminist Historiography of Horror Cinema' and it is published in Horror Studies. Long time readers will remember me telling you about writing the first draft back in January of this year. To have the final piece published inside the same year is insanely fast for academic publishing - I am delighted.

If you want to read my essay and can't get past the paywall, just reply to this email and let me know.

And last but not least. My essay film Three Ways to Dine Well (2021) is now freely available online for everyone to watch. Hurrah! It has been published in Tecmerin: Journal of Audio Visual Essays, in a special issue on women and the media.

For newer readers who have not had the pleasure of me endlessly banging on about the process of making and exhibiting this short film, the logline is: this essay film explores horror's relationship to eating, in over seventy horror films made by women, from the 1920s - 2020s.

You can watch the Spanish version here, and the English version here.

To celebrate the release, my composer _HEAVYLEG has remixed, remastered and generally just 'beefed up' (his technical term) the original soundtrack, which is now available to stream on Bandcamp.

I am super made-up to have ...Dine Well go out into the world in multiple languages. It feels ace.

If this is going to be your first watch of ...Dine Well do drop me a line and let me know what you think. I hope you enjoy it.
 
***
 
What have you been watching?

Tellywise, Paul and I did The English (2022, iPlayer), which gets 10/10 for looking and sounding gorgeous (the colour the costumes the light the setting oh my days), 7/10 for the story premise and 2/10 for actual story execution.

Halfway in we literally had no idea what was going on and actually thought at one point we had gone into three timelines simultaneously.

We hadn't.

Also: it took itself too seriously.

But: I did really enjoy Rafe Spall pretending to be Tom Hardy.

We are now on Slow Horses series two (2022, Apple) which I love because I LOVE SPIES and Paul is tolerating because it is making me happy and because Gary Oldman is in it.

In terms of films, it has all been about the 1940s for me. I've started preliminary research on a journal article on 1940s horror films and the women screenwriters working on them.

This journal article isn't due until next June, but it is going to take fuck-ton of archival research in Los Angeles and as I am in Bradford and not in Los Angeles (sad face) I need to work out what archives I want to look at, and then hire a researcher to go copy the relevant papers for me.

(So I can then analyse these papers and say profound things).

But, before then, I have to narrow down exactly which 1940s horror films I want to write about. And which women screenwriters. And, in the interests of getting a fully rounded contextual understanding of this decade, I have decided that it is imperative that I watch loads of 1940s horror films, whether they are written by women or not.

So, I have started with pretty much everything from the Val Lewton / RKO horror cycle with the exception of Cat People (1942) as I watch that at least once a year anyway and I know it backwards.

This cycle includes: I Walked with a Zombie (1943), The Leopard Man (1943), The Seventh Victim (1943), The Ghost Ship (1943), The Curse of the Cat People (1944), The Body Snatcher (1945), Isle of the Dead (1945) and Bedlam (1946).

They are all screening free in alright quality on the Internet Archive, which is where I've been streaming them.

Curse of the Cat People and I Walked with a Zombie are the most well known so I won't dwell on them, but, while I love the others, they are a mixed bag. 

The Ghost Ship is, retrospectively, really rather homoerotic, with all this men trapped together, jostling, in a confined space out of sea, while Isle of the Dead is a proto lockdown film in which a group of strangers get stuck together in one house when the plague comes and they can't leave in case they spread infection. There's endless dissolves of handwashing and standing far apart, and not touching each other, with everyone trying to bear it with stoic attitude which is wild to watch in 2022.

The Body Snatcher is solid, even if it has a period setting (something I don't normally enjoy, and why I don't love high Gothic vampire movies), but it has very nice camera set ups, a lot of thought about where the light falls, and you can't help but be entertained by Boris Karloff's disappearing and returning Scots accent.

Bedlam turns out to be a super-feminist horror film about toxic sadistic men in power and how they try to silence outspoken women - ERROR - while The Leopard Man has little plot but oozes atmosphere and has plenty of dancing and a big cat (always a plus). 

But my favourite, my absolute favourite, even more than Cat People which we all know is a BANGER,
even more than that,
the best of the best is...
The Seventh Victim (image at the top of this newsletter).

The synopsis is: A woman in search of her missing sister uncovers a Satanic cult in New York's Greenwich Village and finds that they could have something to do with her sibling's random disappearance.

God, I adore this film.

I love the contemporary New York setting, I love that the most complex and evil and good characters in this film are all women, that the script has a proper QUEST, that it has a creepy-ass shower scene which definitively predates Psycho by seventeen years, that it is all about a young woman getting mixed up in a devil cult in New York twenty-five years before Rosemary's Baby, that it is dripping with suspense, that there are these long, complex scenes on the subway that have stayed in my mind so concretely in the twenty years since I first saw this film, and that it is about SISTERS (always a big fan of horror films about sisters). 

Then, everytime I watch it, at the end I am left, hand over mouth,  thinking "wow that was bleak as fuck!". It is not bleak in general, really, and you know me I don't enjoy horror films that traumatise, it just has this killer ending that absolutely knocks you out and no studio would green-light today. Hereditary needs to pay this film some respect.

The Lewton cycle at RKO is the most well-known of the 1940s horror films, and I think for my article I want to go elsewhere. Not Universal, but some of the independents, maybe on Poverty Row. I'm now re-reading the excellent Phantom Ladies: Hollywood Horror and the Home Front (2014, paperback, my copy) and have just started Recovering 1940s Horror Cinema: Traces of a Lost Decade (2014, hardback library copy) to guide me further afield.

But, even if I don't end up writing much about the RKO films, I did really enjoy revisiting them all. They are my kind of horror: tone, atmosphere, mood, women leads, women's stories, city settings, SO MANY CATS. 
 
***

Time for some reading and viewing recs.

Something to watch:
the 2 minute short Evil of Dracula (Martha Colburn, 1997), described by its maker as "a "Super 8mm stop motion animated film with painted collages of vampires throughout 1960s and '70s advertising."

It is insane and experimental and fantastic and I needed to lay down and shut my eyes after watching it to reset my brain.

The Internet Archive link above to Colbourn's film is a 2 hour Atomic TV episode on the 1999 Maryland Film Festival, and Colbourn's work comes in from 1.17.56, but it is worth bouncing through what comes before, which includes Divine and Doris Wishman.... 

I discovered Evil of Dracula via volume 6 of the ever-brilliant Bleeding Skull's "Shorts That Tore Our Head Off" series, which is also a strong recommend from me.

Something to read:
The cinephiles will all know that the Sight and Sound Greatest Films of All Time poll has just come out (but, baffingly, doesn't include The Lost Boys?).

I am less interested in the lists, and more interested in people's justifications for why they chose what they did. The explanation that spoke to me the most came from Rachel Pronger, co-founder of Invisible Women.

She argued that "My list is a political list, a protest against the canon's longstanding tendency to ignore films made by women/minority gender filmmakers. Each of these films is great in my opinion great for many reasons, but this is a list based on gut rather than any kind of faux systematic criteria". 

You can find her list and justification in full here.

And then, when you've done that, read Qian Zhang's essay on 'maternal time' in horror films, from Chantal Akerman's Jeanne Dielman, 23 quai du Commerce, 1080 Bruxelles (1975) - voted number one in the aforementioned Sight and Sound poll - to The Babadook. It is published free, online, open access in Monstrum, a journal worth keeping your eye on.

Something to subscribe to: 
Celia Mattison's brilliant newsletter, Deeper into Movies. In her latest missive, based on the worst films she has seen in 2022, she singles out Hellraiser, Prey and Scream and states "Can reviewers please be serious. These are all the same movie, and that movie is terrible. I know the film industry is struggling post-Covid, but the answer cannot be that every film critic now does PR for the latest streaming slop". I laughed my head off.

Something to support:
The Future of Film is Female fundraising drive. You can donate to their Kickstarter for 2023, which is designed to fund support our screenings, Short Film Fund, and new women in horror projects. They do amazing work.

Something to apply to:
come do a fully funded PhD with me at the University of Leeds, UK! We have three fully funded PhD scholarships in the School of Media and Communication, two of which are costed to cover international student fees (higher than home student fees). They are to start full time in October 2023.

You can do a traditional written PhD (80,000-100,000 word thesis) or by PhD by creative practice (making a film / writing screenplays / making video essays + a written accompaniment of v roughly 25,000 words).

If you want to enquire more about this, don't reply to this newsletter - instead, email me at a.peirse@leeds.ac.uk with a 1 or 2 paragraph pitch telling me about yourself and your proposed research project. I'm interested in supervising PhDs on horror film (duh), women's film histories / feminist film historiography, videographic criticism, filmmaking and screenwriting. If your project feels like a good fit, I'll then tell you to write a 3500 word research proposal following the School guidelines, and we will take it from there. Good luck!
.
***
 
Can you believe it's been two years since I started this newsletter? In December 2020, I put the first issue out into the world without really thinking about it and without any plan, just on a whim, and here we still are.

Whether you've been with me since the beginning, or are a new recruit to our excellent and discerning club, it's good to have you here. It's just great to have you reading, but if you would like to further support the Losers' Club, please shout about it on social media and / or forward to a friend. If you have been forwarded this, you can sign up y'sen and view past issues here.

Also, this is the last newsletter for 2022. Next issue would be out on Christmas Day and you know I love you all but I don't love you that much. I'll be back in the new year with more ramblings for you.

Take care, speak soon - as ever, feel free to reply to this message with thoughts on this newsletter, or recommends for films / books / podcasts you think I might like -  and have an AMAZING end to 2022. I hope you get lots of time to watch old horror films and lay on the sofa under blankets while eating your own weight in Quality Streets (my plan).
 
Alison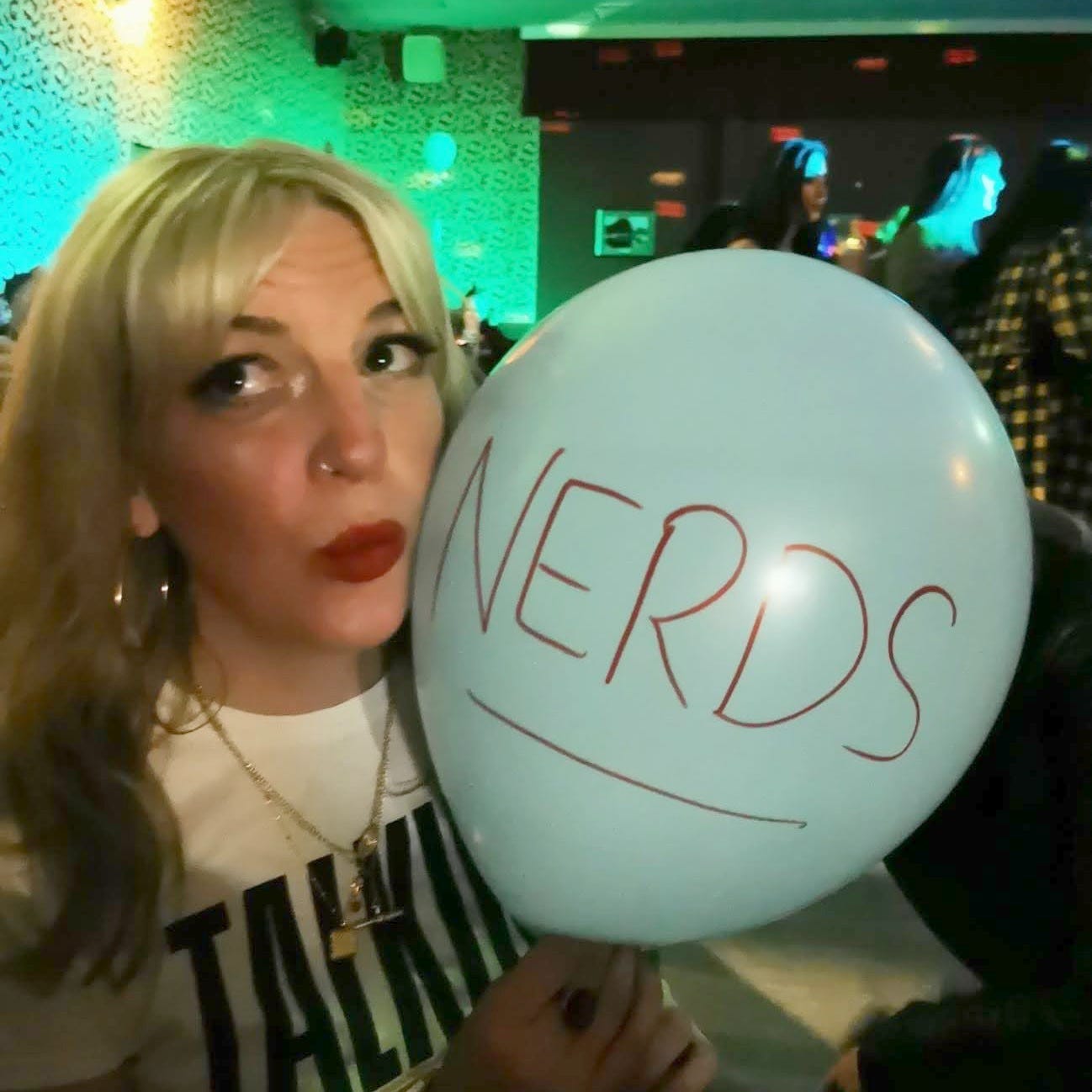 The Losers' Club is a newsletter by Alison Peirse, associate professor of film and 
author / editor of Women Make Horror; After Dracula and Korean Horror Cinema.